GALAMBANY
'Galambany' – meaning  (We, Including You) is a Ngunnawal word signifying respect, and reflecting the values of peace, reconciliation and belonging.
The sculpture is a gift from the Sai Family, dedicated on 21 July 2022.  The art installation, designed by  Terrance Plowright, expresses the values of truth, right conduct, love, peace and non-violence.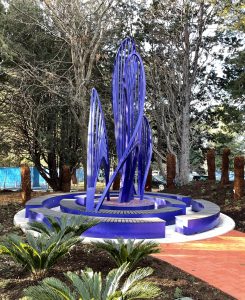 The Main Structure
The sculpture required 12 month's of work and is 6 metres high x 5 metres wide and is made from steel.  Galambany consists of four main figures that sit within a small labyrinth. The installation combines the sound of gently ringing Tibetan Bells (activated when you walk into the outer ring), meant to symbolise a place of quiet.  It is meant to be a place to ponder and to contemplate. 
The Base
The design at the base of the installation was created by the artist, Shane Mankitya Cook. It reflects the Indigenous heritage of the land. While the upper section of the sculpture is meant to  represent the waterways and beaches the base of the sculpture represents the land and country.  The line work in the middle represents the connection that First People have to country and the knowledge that guides its care.